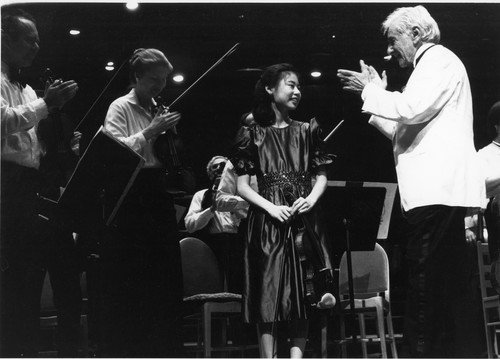 photo: (c) Walter H. Scott
On August 25th 2018, Midori will perform a movement of Leonard Bernstein's Serenade after Plato's Symposium at the Bernstein Centenary Celebration at Tanglewood in Massachusetts, the summer home of the Boston Symphony Orchestra. Other performers will include Yo-Yo Ma, Audra McDonald, Thomas Hampson, Christoph Eschenbach and Michael Tilson Thomas. The Boston Symphony will be joined by members of the New York, Vienna and Israel philharmonics, the Pacific Music Festival and the Schleswig-Holstein Festival.
This is no ordinary date. It will undoubtedly bring back memories – not only for Midori but for older members of the audience as well – of the occasion in July 1986 when her performance of this same work, under the baton of its composer, caused a sensation worldwide and took its place in classical music history. The New York Times summed it up the following morning with the front-page headline "Girl, 14, Conquers Tanglewood" (Note: Midori is referred to as Miss Dori):
"All had gone normally through the first four movements of Leonard Bernstein's Serenade, assuming you count as "normal" a technically near-perfect performance on a muggy night of a difficult piece played from memory (Mr. Bernstein, who was conducting, used a score) with winning artistic insight by a 14-year-old.
But then, in the heat of the long and complex fifth and final movement, Miss Dori broke her E string. She quickly turned to Malcolm Lowe, the concertmaster, who looked nonplussed but finally handed over his Stradivarius. There was a moment's pause while Miss Dori fitted her chin rest onto the new violin. But then she proceeded absolutely unfazed.
Then it happened again – another snapped E string. By this time Mr. Lowe was playing the Guadagnini of the acting associate concertmaster, Max Hobart, and Mr. Hobart had retuned Miss Dori's violin and was playing it, "faking" his way around the missing E string.
Miss Dori took Mr. Hobart's Guadagnini from Mr. Lowe, thinking at first it was her own violin, restrung. Realizing that it wasn't, and unwilling once again to interrupt the music, she played on, perfectly. When there was a brief pause in her part, she snapped on her chin rest, and finished the piece on Mr. Hobart's violin.
When it was over, audience, orchestra and conductor-composer joined in giving her a cheering, stomping, whistling ovation."
This season, which marks what would have been Bernstein's 100th birthday, orchestras around the world have invited Midori to perform his Serenade. So far, she has played it in Poland, Austria, Argentina, the United States (Florida), Germany, Korea and Hong Kong. In July, prior to the Tanglewood event, she performs the Serenade with the PMF (Pacific Music Festival) Orchestra in Japan and with the Aspen Festival Orchestra at the Aspen Music Festival in Colorado.
https://www.midori-violin.com/wp-content/uploads/Midori-and-Benstein.jpg
359
500
Clara Kim
https://www.midori-violin.com/wp-content/uploads/midori.png
Clara Kim
2018-06-23 12:06:52
2020-07-01 18:11:32
Midori performs Leonard Bernstein's 'Serenade after Plato's Symposium' in commemoration of the composer's centenary