"Perhaps no other artist of our time has had a more profound impact
on the development of string musicians and audiences throughout the world.
Her supreme musicianship, inspirational commitment to excellence, and
tireless advocacy for her chosen art form make this
a must-see experience for all music lovers."

Douglas H. Wheeler, Washington Performing Arts President Emeritus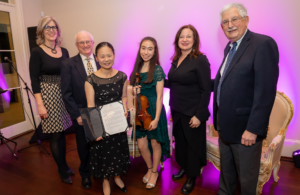 Midori holding her Ambassador of the Arts citation and posing with (left to right) arts writer and critic Anne Midgette, Washington Performing Arts Board Chairman Tom Gallagher, past Feder String Competition winner Miyabi Henriksen, Washington Performing Arts President & CEO Jenny Bilfield, and Washington Performing Arts Legacy Society Chairman Stefan Tucker (January 2020)
Photo by David Claypool / Kalorama Photography
Washington Performing Arts named Midori as the recipient of its 2020 Ambassador of the Arts Award, an accolade that recognizes extraordinary achievement, service, and advocacy in the performing arts.
In celebrating awardees each year, Washington Performing Arts produces programs that not only showcase their talents but also highlight an important aspect of their artistry and work. Midori's program, which premiered on Wednesday July 21 2021, features performances, a masterclass, and a panel discussion spotlighting Midori's non-profit organization, Partners in Performance (PiP).
The program, moderated by Washington Performing Arts President and CEO Jenny Bilfield, offers performances by Midori of works by Fritz Kreisler and Jessie Montgomery, footage from a masterclass in which Midori instructs past Washington Performing Arts Feder String Competition winner, Miyabi Henriksen (17) and a panel discussion with two PiP presenters, Lance Ozier of Music in Corrales and Sandra Nikolajevs of Chamber Music Charleston.
Please click here for more information about Washington Performing Arts and the Ambassador of the Arts Award.
Click here to watch the program.
https://www.midori-violin.com/wp-content/uploads/21-07-21_midori-banner_1000x340.png
340
1000
Evelyn Velleman
https://www.midori-violin.com/wp-content/uploads/midori.png
Evelyn Velleman
2021-07-22 18:16:00
2021-07-22 18:44:39
Washington Performing Arts names Midori as the recipient of its Ambassador of the Arts Award