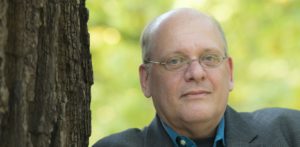 Detlev Glanert (Photo: Bettina Stöss)
The original plan was for Midori to give the premiere of Detlev Glanert's new Violin Concerto No 2 (To the Immortal Beloved) alongside Beethoven's violin concerto as part of her 2020/2021 Residency with the Royal Scottish National Orchestra (RSNO). Needless-to-say, Covid-19 put paid to that plan.
Written for Midori, the concerto, a four-way commission among the RSNO, the NDR Elbphilharmonie Orchester (Hamburg), Suntory Hall (Tokyo) and the Borusan Istanbul Philharmonic, will finally be unveiled in Edinburgh, Glasgow and Hamburg in November and December 2021.
The RSNO performances will take place on November 5 and 6 in Edinburgh and Glasgow respectively, conducted by the orchestra's music director Thomas Søndergård, and will also be available online from November 6. The Elbphilharmonie performance on December 10 will be conducted by Brad Lubman. Performances in Tokyo and Istanbul also had to be rescheduled and will follow in future seasons.
The subtitle of Detlev's concerto, An die Unsterbliche Geliebte (To the Immortal Beloved), refers to the famous love letter that Beethoven wrote in 1812. The unsent letter, found in the composer's papers upon his death, has caused speculation ever since as to the identity of 'the Immortal Beloved'.
Midori had "asked Glanert to make a connection with the Beethoven concerto, as I wanted the possibility of including both in the same programme but didn't specify what that should be."
Glanert describes his new concerto as a 'musical translation' of the form and emotional currents of Beethoven's famous letter. His scoring also replicates that of Beethoven's concerto. In Midori's words, the resulting work is "incredibly beautiful, very lyrical, full of drama and tension building."
https://www.midori-violin.com/wp-content/uploads/midori.png
0
0
Evelyn Velleman
https://www.midori-violin.com/wp-content/uploads/midori.png
Evelyn Velleman
2021-11-02 16:15:47
2021-11-04 23:29:11
Midori to give world premiere of Detlev Glanert's Violin Concerto No. 2 (To the Immortal Beloved)