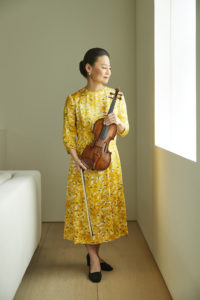 Ravinia has announced the appointment of esteemed violinist Midori as the Artistic Director of Ravinia Steans Music Institute's Piano & Strings program, effective this fall to begin overseeing the 2024 summer season. Midori will succeed the acclaimed violinist Miriam Fried, who has held that position since 1994, following the tenures of the late Robert Mann (1988) and Walter Levin (1989–93).
About the new appointment, Midori said, "I am very much looking forward to being involved in RSMI in this new capacity. Working with young musicians has been central to my career, and this program is one of the most important of its kind in the music field. It has been led for the last 30 years by Miriam Fried, and I am honored to inherit her remarkable legacy as I lead the program forward in the coming years."
As the Piano & Strings Artistic Director, Midori will lead young professional violinists, violists, cellists, pianists, and members of pre-existing chamber groups through immersive and intensive rehearsals and coachings with a rotating roster of some of the world's finest teaching artists, including herself. The Program for Piano & Strings concentrates on interpretation and small-group collaboration through the practice and performance of classical sonata and chamber repertoire. The 2024 program takes place June 23 through July 24.
Working in close partnership with the Ravinia Steans Music Institute, Midori will strive to find new ways of engaging and advancing young professional musicians who view their experience at Ravinia as a critical part of their professional music careers as performers, educators, and artistic leaders.
Commenting on the next chapter of the renowned Piano & Strings Program, RSMI Director Alejandra Valarino Boyer said, "Midori's renowned artistry and commitment to music education make her an excellent choice to lead the Piano & Strings Program. Her experiences as a performer, educator, and arts advocate will build on the legacy established by Miriam Fried to guide and mentor the next wave of classical musicians. We're honored to have her join the Ravinia and Steans Music Institute team."
Midori's appointment comes as Fried prepares to welcome the 2023 cohort of Piano & Strings Program fellows for their June 19 – July 22 residency, Fried's 30th and final season as director of the program. During her tenure, Fried trained numerous program alumni who have gone on to distinguished, often award-winning, careers and credit the Steans Music Institute and Fried as integral parts of their training and success.
"I would like to add my warmest welcome to Midori. In addition to her artistry, wisdom, and integrity, she brings her unending passion for music and the education of young people. The Steans Institute will be in wonderful hands," Fried said.
Find out more about the Ravinia Steans Music Institute's Program for Piano and Strings
https://www.midori-violin.com/wp-content/uploads/Mid_PR_C12_-2_RT-1-200x300-1.jpeg
300
200
Evelyn Velleman
https://www.midori-violin.com/wp-content/uploads/midori.png
Evelyn Velleman
2023-06-13 10:20:17
2023-06-14 10:40:23
Midori is named Artistic Director of the Ravinia Steans Music Institute Piano & String Program