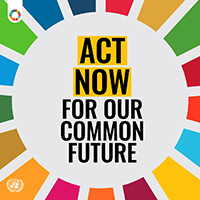 In 2015, 193 countries came together with the UN to agree on a shared plan of action to bring greater peace & prosperity to all people and our planet. Known as the Sustainable Development Goals (SDGs), world leaders set a deadline for implementing the SDGs by 2030.
This year -2023- marks the halfway point toward realizing the SDGs by 2030. Yet the SDGs are at grave risk. Climate disasters, gender disparity, economic downturn, and lingering effects of a global pandemic, for example, threaten our chance for a better world.
The good news? The SDGs are still our roadmap out of crisis. When these same leaders, and their successors, arrive at the SDG Summit, this September in New York City, we must remind them of their commitment. At the halfway point, it's a moment we cannot afford to lose.
Midori has joined with a Circle of Supporters, including her fellow UN Messengers of Peace HRH Princess Haya, Daniel Barenboim, Michael Douglas, Jane Goodall, Yo-Yo Ma and Charlize Theron, to issue a rallying cry for our future and to galvanize their communities to take individual action on the SDGs, re-energize public debate, and impress on governments the urgency to Act Now.
"As a Messenger of Peace, Midori continues to inspire young people through music education to build a sense of community and help advance SDG 4 to provide quality education for all, driven by the vision that music can make the world a better place and improve the human experience."
https://www.midori-violin.com/wp-content/uploads/UN-act-now-1.jpg
200
200
Evelyn Velleman
https://www.midori-violin.com/wp-content/uploads/midori.png
Evelyn Velleman
2023-07-10 15:59:14
2023-07-20 17:29:14
Midori endorses the UN's "Act Now" initiative to encourage participation in achieving its Sustainable Development Goals