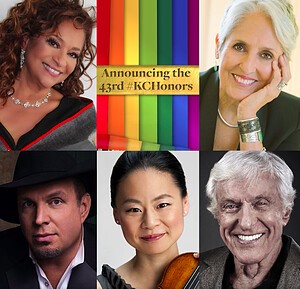 Midori took part in several events that made up the 43rd Kennedy Center Honors over the week of May 17, 2021.
The annual celebration of awards for lifetime achievement in the arts was postponed from its usual early December date and restructured due to the Covid-19 pandemic. Taped excerpts are being assembled in a two-hour primetime special to be broadcast on CBS television on June 6th.
Midori is one of five honorees, joining singer Joan Baez, country musician Garth Brooks, dancer-choreographer-actor Debbie Allen and actor Dick Van Dyke.
The recipients were invited to the White House, where they were welcomed by President Biden. They were later fêted at two tribute concerts and took part in a Q&A with members of the press.
The culmination of events, the presentation of medallions, was held on Friday evening May 22nd on the Kennedy Center Opera House stage before 128 guests hosted by Gloria Estefan, a 2017 honoree. The ceremony included tributes – conductor Zubin Mehta spoke about Midori – and each honoree made a short statement. Several expressed the hope that the modified medallion ceremony would be a cornerstone in the country's cultural reopening.
Acknowledging her award, Midori said, "It is absolutely an honor for me to be in the illustrious company of such great, great, creative minds. The last few days here in Washington, D.C., have been an incredible experience for me for which I would like to thank everyone at the Kennedy Center and the Honors.
Springtime in our capital is always beautiful. This is a very special season for us. However, I find that this season—this year—is made especially meaningful because we are witnessing our nation emerging from this dark pandemic, and also the arts starting to blossom again.
However, I do recognize that this season has not been an easy one for everyone. I would like to acknowledge artists who are struggling to get back on their feet.
As well, I would like to thank and acknowledge the first responders and essential workers without whom none of us would have been able to be here this evening. …. Thank you very, very much for all you have done. For our country, and for us, for everyone. And, going forward, I hope you will consider us artists as your partners as we strive to bring back beauty, inspiration, peace, and courage to everyone's lives. Thank you very much."
The 2020 Kennedy Center Honors will air June 6 at 8 p.m. ET on CBS. The event will also be available to stream on demand on the CBS app and on Paramount+.
Midori's career started with a fleeting moment. It's evolved into a lasting legacy. (Washington Post)
Midori reflects on her quintessential prodigy story and what it means to be a performer (PBS Newshour)
https://www.midori-violin.com/wp-content/uploads/Kennedy-Center-Honors.jpg
289
300
Evelyn Velleman
https://www.midori-violin.com/wp-content/uploads/midori.png
Evelyn Velleman
2021-05-24 16:09:59
2021-06-04 12:25:29
2020 Kennedy Center Honors